THIS MONTH'S MOVIE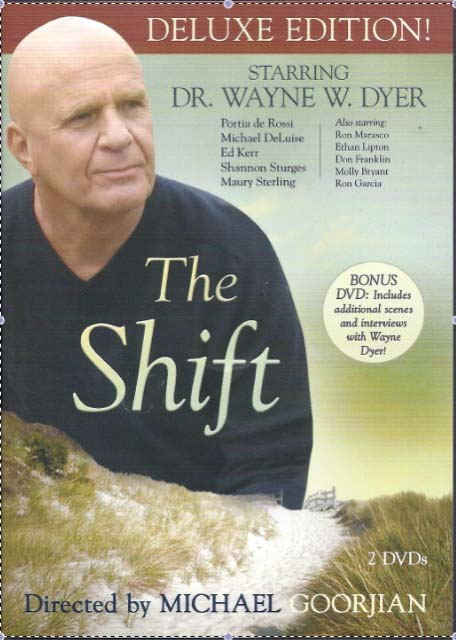 THE SHIFT
In this compelling film, Dr. Wayne Dyer explores the spiritual journey from ambition to meaning.

The powerful shift from the ego constructs that we're taught early in life by parents and society—which promote achievement and accumulation--are shown in contrast to a life of meaning, focused on serving and giving back.

Through the intertwined stories of an overachieving businessman, a mother of two seeking her own expression in the world, and a director trying to make name for himself, this entertaining film not only inspires, but also teaches us how to create a life of meaning and purpose.
Our March film: Wednesday, March 27
6:45 pm -- 475 Lewis St., Suite #218
Office of Institute of Light
A discussion follows the video.
For more information contact Heidi Moller at 970-673-3177
The Divine Matrix is a field of energy that provides the container, as well as a bridge and a mirror, for everything that happens between the world within us and the one outside of our bodies. The fact that this field exists in everything from the smallest particles of the quantum atom to distant galaxies whose light is just now reaching our eyes, and in everything between, changes what we've believed about our role in creation.

The Divine Matrix is a new and very different way of thinking about how things work in life. For others, it's a comforting synthesis of what you already know, or at least suspect, to be true. For everyone, however, the existence of a primal web of energy that connects your bodies, the world, and everything in the universe opens the door to a powerful and mysterious possibility.

To think of ourselves as participating in creation rather than simply passing through the universe during the brief period of a lifetime requires a new perception of what the cosmos is and how it works.

This is the second half of the 4-hour video.

Our monthly alternative movies are always free, though we do appreciate donations that help us cover costs.
Donations accepted to help support Southwest Light and Learning Center a nonprofit 501(c) 3 institute for higher awareness.
Send me an e-mail with your ideas for courses and seminars you'd like to see. Program Director
For Young People
We offer courses and seminars for different age categories:
Opportunities for Teachers & Therapists
Are you a healer or facilitator with an expertise to share?
The Southwest Light and Learning Center is seeking teachers and therapists who wish to present their knowledge and abilities, either through classes or seminars and retreats. To apply, print out the teacher application. For more information, please contact the Director.
Southwest Light Center • Pagosa Springs CO 81147